---
As the investigation into the origins of the Russia Collusion hoax heats up, along with the highly anticipated DOJ Inspector General's report into whether Obama-era intelligence community officials committed fraud upon the Foreign Intelligence Surveillance Court (FISC), set for release, it appears the former heads of two of America's intelligence agencies are becoming quite nervous.
(Article by Susan Duclos republished from AllNewsPipeline.com)
Public statements made by former CIA Director, John Brennan, and former Director of National Intelligence, James Clapper, indicate that as the "Investigation into the investigators" moves forward, both are quite "concerned" about what is going to be exposed.
Top that off with the timely free public release of "FBI Lovebirds | How Two FBI Operatives Tried To Take Down Donald Trump," where actors Dean Cain and Kristy Swanson read all of the text exchanges between former FBI agent Peter Strzok, who played key roles in both the Hillary Clinton email investigation and the initiation of the investigation into President Trump's 2016 campaign and Russia interference, and his alleged mistress FBI special counsel Lisa Page, and we get a birdseye view of the incompetence and corruption that ran rampant through U.S. Intelligence agencies under Obama.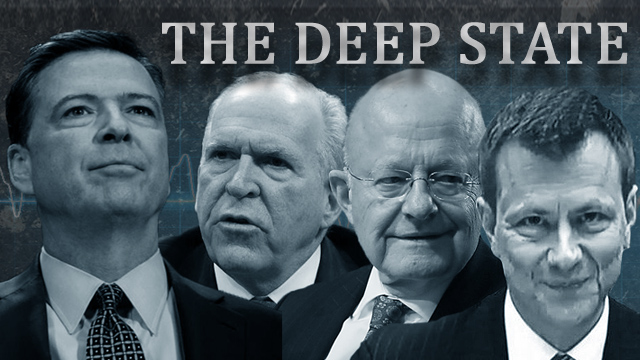 CLAPPER AND BRENNAN IN THE SPOTLIGHT
News broke when former CIA Director John Brennan announced on MSNBC, where he is now an anti-Trump paid contributor, that he was "concerned"  that he is "supposedly" going to be questioned U.S. Attorney John Durham,  as part of the William Barr/Durham investigation into the actions of high level former Intelligence community members during the 2016 election cycle.
"Given that Barr is now accompanying Durham on these things, it really makes me think that the hand of politics and of Trump are now being used to massage what this ongoing review quasi-investigation is. So I am concerned," Brennan said on MSNBC's "Deadline" with former Bush press secretary Nicole Wallace.

"I am still very puzzled and troubled by Donald Trump's actions vis-a-vis Russia. It is something that makes me wonder, what is at the root of some of his actions and decisions?" Brennan stated.
While recently Brennan has displayed a defensive and belligerent attitude regarding the investigation, back in March he claimed that he relied on "bad information"  and that he may have been misled about the extent of President Trump's connections to Russia.
Former head of the CIA John Brennan admitted on Monday that he may have relied on "bad information" for his relentless attacks on President Trump.

Brennan — who once warned that "our Nation's future is at stake" — told MSNBC's "Morning Joe" that he may have been misled on the extent of Trump's connections to Russia.

"Well, I don't know if I received bad information but I think I suspected there was more than there actually was," Brennan said. "I am relieved that it's been determined there was not a criminal conspiracy with the Russian government over our election."
What a difference a few months and an open investigation into Brennan's actions, as well as other top members of the Intel community, can make on a person's public statements.
As for James Clapper, he recently went on CNN, where he is a paid contributor now, and basically spilled what his defense is going to be for his actions as DNI under Obama, which is "We just did what our Commander in Chief told us to do."
Read more at: AllNewsPipeline.com and DeepState.news.